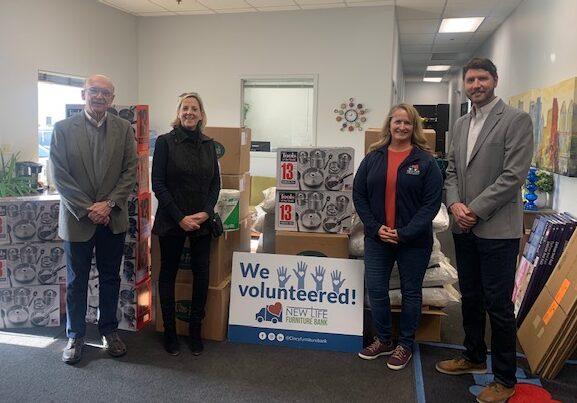 CMS Insurance continues to support New Life Furniture Bank by donating items at Christmas. Dan and Lynn Meiners and Andy Crouch met with Executive Director, Dana Saxton, to deliver new pots and pans, pillows, paper products and personal care items
donated by the staff.
New Life Furniture is the only furniture bank in the area collecting donations of new and gently used beds and home furnishings and delivering them to families in need in Greater Cincinnati, Northern Kentucy and Dayton. In 2022 they furnished 1948 households. With the opening of the New Life Furniture Thrift Store in 2022 they are now able to collect more items to be sold in the store and support the New Life Furniture Bank which in turn helps our neighbors overcome devastating circumstances.
If you are moving, downsizing or just spring cleaning, consider donating your gently used items (furniture, bedding, home furnishings and decor, clothing, jewelry, books and more) to New Life Furniture Bank. To learn more and for a complete list of the items they accept visit their website at nlfurniture.org or contact them to schedule a pick-up at 513-313-0530.
---

CMS Insurance Agency Awards $6,500 to New Life Furniture Bank through Westfield's Legacy of Caring Program
CMS Insurance Agency, located on Erie Avenue in Hyde Park, has been a trusted provider of insurance products since 1977. When presented with the opportunity through Westfield Insurance to nominate a local nonprofit for a donation through their Legacy of Caring Program, "New Life Furniture Bank was a perfect match", said Dan Meiners, CMS President. Their mission to provide full house furniture to families and individuals overcoming devastating circumstances aligns with Westfield's core values of not just writing insurance policies but going above and beyond to help people and families thrive and prosper.
"Our team at CMS Insurance is always seeking out opportunities to volunteer and support our community. We are proud of our collaboration with Westfield, which helps our agency make a more powerful impact on the communities where we live and work," said Andy Crouch, CMS Vice-President. This year the Westfield Legacy of Caring Program donated $625,000 to over 100 nonprofits in cities within Westfield's national footprint to nonprofits focused on helping under-employed families overcome barriers in education, finance, housing and jobs and recover from disaster. Westfield is proud to work with their independent agents in distributing more than 3.5 million since 2015.
About Westfield Insurance Foundation
Westfield Insurance Foundation was established in 2005 as an independent private foundation endowed by Westfield Insurance. In keeping with the values of Westfield Insurance, the Foundation exists as a dedicated community and industry partner; concentrating resources to have an impact on safety, disaster recovery and family stability. The Foundation donates over $3 million annually to a variety of charities.
About Westfield
Westfield was founded in 1848 by a small group of hard-working farmers who believed in the promise of the future and the power of the individual. Today, as one of the nation's leading property and casualty (P&C) companies, we remain true to their vision and are dedicated to your protection and prosperity and to the progress of our community. Visit westfieldinsurance.com for more information.
---

Holly Hill Child & Family Solutions

Among other things, Holly Hill is a residential treatment facility focused on helping the physical and mental abuse of adolescent girls.  The residential component of Holly Hill's operation requires everyday household items from bath towels to cookware.  In December of 2019, our office was happy to assist in purchasing those items and delivering them to their campus.  Holly Hill is a wonderful organization that does very impactful work for young women in the Cincinnati area.
---
Valley Interfaith Community Resource Center
In December of 2018, CMS Insurance was proud to contribute to the efforts of Valley Interfaith Community Resource Center.  Our employees participated in the Holiday Sharing Program by donating new clothing and toys for children.  Valley Interfaith provided a great opportunity for members of our office to deliver the items in person to see their operation during the Holidays.  We appreciate the chance to be involved with such a great organization.
---
Freestore Foodbank
On March 26, 2015, the employees of CMS Insurance spent the day at the Freestore Foodbank as our community outreach. Our group inspected and sorted food and stocked shelves as well as distributed food to members of the community.
The Freestore Foodbank of Cincinnati, Ohio is the largest emergency food and services provider in the Tri-State area, providing more than 20 million meals annually over a 20 county region in Ohio, Kentucky and Indiana. We purchase, solicit and collect donated food from manufacturers, wholesalers, retailers and government agencies and distribute it to about 260 community partner agencies. The Freestore Foodbank is a member of Feeding America, the national network of food banks and food rescue programs.
---
Tender Mercies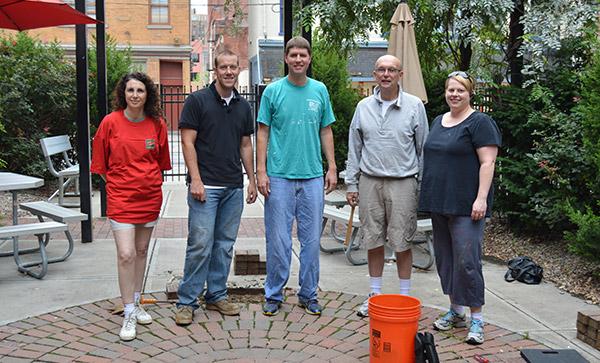 As we looked for a way we could help in the community, we found Tender Mercies, which is an which is an organization that transforms the lives of homeless adults with mental illness by providing security, dignity, and community in a place they call home. Security means a housing environment where residents' personal safety is a priority. Dignity means a housing environment that allows residents to develop personal, social, and economic strengths. And community is a regular, predictable housing environment that offers a sense of family, while affirming the individual. We painted resident rooms and laid memorial bricks in the patio area. This is such a wonderful organization and the residents are so grateful!
---
Giving Back to Fernside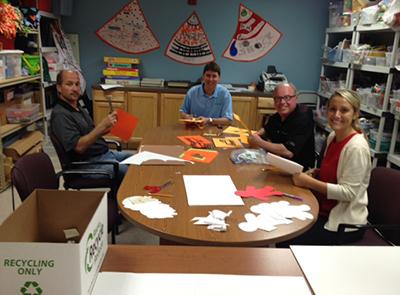 In June, several employees were blessed with the opportunity to help out at Fernside (link to website). Fernside is a non-profit organization offering support and advocacy to grieving families who have experienced a death. As the 2nd center in the nation, Fernside offers peer support for grieving children, teens and adults. Fernside works to increase community awareness of grief issues through community outreach. We look forward to our next opportunity to serve in the community.
---
2014 Walk for Autism Speaks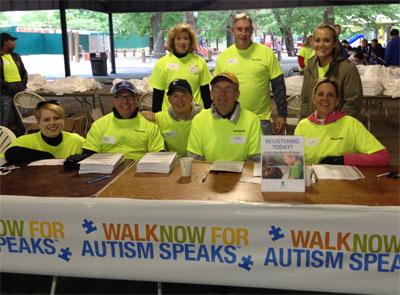 Autism Speaks: Supporting Adolescents and Adults with Autism
On May 17th, 2014, CMS had the opportunity to volunteer for an organization called Autism Speaks. This organization raises money to support any children and adults with Autism. Seeing thousands of contributors come to support this cause gives an overwhelming feeling of positivity! We loved this experience and hope to volunteer and support this incredible organization again!
Our next community event is on June 12, 2014, at Fernside.
---
We at CMS Insurance want to give back to our community as much as we can. We have just begun this endeavor and feel very excited that we are able to help those in need.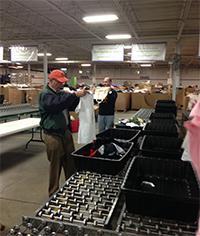 CMS Insurance recently volunteered at Matthew 25 Ministries. Although our contribution is a "drop in the bucket", we feel very fortunate to have had the opportunity to help this wonderful organization. Their work in disaster relief as well as ongoing efforts in impoverished areas has meant a great deal to many people around the globe.
Our next event is the 2014 Walk for Autism Speaks on Saturday May 17, 2014 at Coney Island.